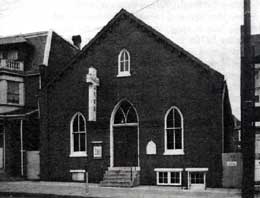 James Street Mennonite Church began as a Sunday School in downtown Lancaster in 1897. First located on North Street, it moved to East Vine Street in 1908, and became the "Vine Street Mission" (pictured at right.) The mission continued at Vine Street with sporadic interruption until 1974.
From 1974 to 2000 it was located on North Charlotte Street. In 2001, after renovating a converted brick warehouse in northwest Lancaster, the church moved to its current location at 323 W. James Street.
Over the years it has met people's needs through social service, evangelism, education, and fellowship. Many present church workers have gained valuable experience in this congregation before relocating to other places to serve God and humanity.